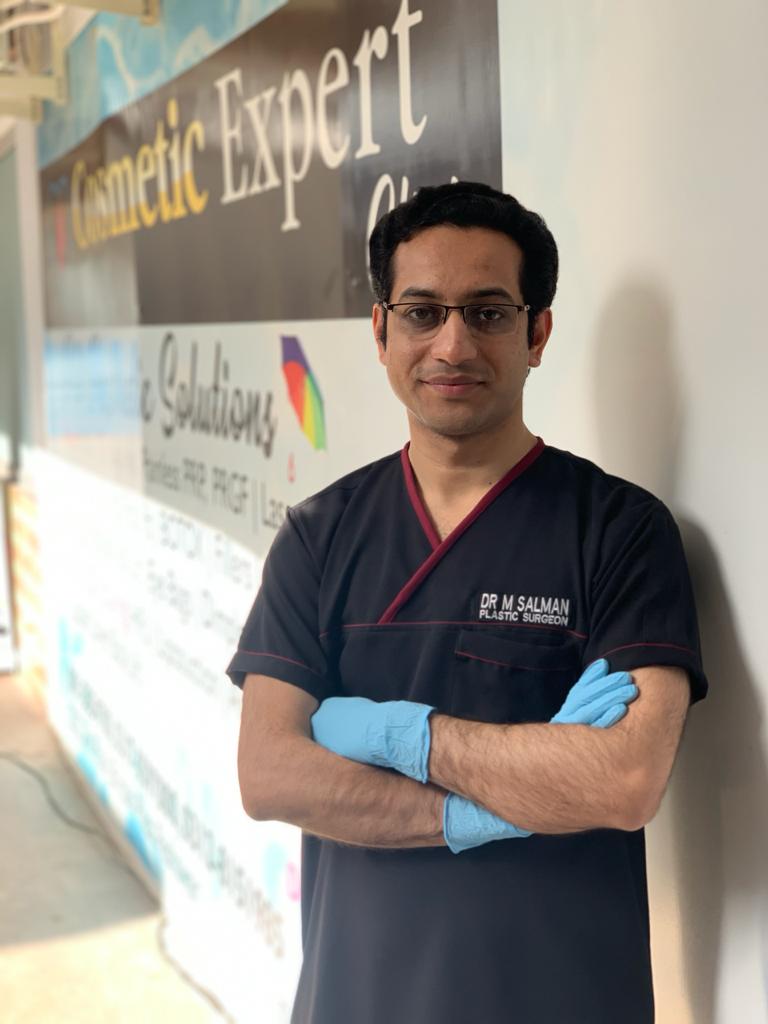 Dr Muhammad Salman Khan
Plastic Surgeon in Peshawar
Dr. Muhammad Salman Khan is a professional cosmetic and consultant plastic surgeon with all due licenses and certificates at Cosmetic Expert, Peshawar. Muhammad Salman Khan got his MBBS degree in Pakistan. Pursuing his career as professional cosmetic surgeon was his aim since the very beginning. He went to FCPS institute to study, learn and practice plastic surgery and got FCPS certified consultant surgeon. He had experienced an ample training in the field of cosmetic plastic surgeries. To further learn and cooperate with evolving technologies and latest methods he invested a huge amount of time in self-learning process and studied procedures with deep interest.
Dr. Muhammad Salman Khan also served as a consultant plastic surgeon at Burns and Plastic Surgery Center, Hayatabad Medical Complex Peshawar and helped many people by giving them confidence in their bodies. He is a leading plastic surgeon in Peshawar with specialties in body contouring, facial contouring and hairtransplant. Dr. Muhammad Salman Khan has a command over hair restorative procedures and surgeries; he uses techniques like FUT, FUE, Unshaven FUT, Unshaven FUE, and hybrid technique for hair transplant. Furthermore he has immense experience of aesthetic procedures like Abdominoplasty, Brachioplasty, Blepharoplasty, Liposuction, Gynecomastia, and breast enchantments. He is well trained and had considerable experience to handle both noninvasive aesthetic procedures, as well as injectable fillers. He is one of the very few surgeons in Pakistan who is capable of handling hair transplant procedures with no cut and no pain to patient. Dr. M. Salman Khan's techniques like removal of scars and burns using PRP and micro needling is changing lives of people.
He is helping people to cope up with thin hairs and hair loss, deep face wrinkles and smile lines and other body contouring procedures every day. Clients and patients often talk about the excellent services he is offering on his social media.
Dr. Muhammad Salman Khan believes in giving to society and enjoys a very well know and respected reputation locally in regard of his professionalism. He educates people often on his social media platforms about the benefits of maintaining a good health and how important self-satisfaction about one's body is. He says "People in Pakistan are not aware of how their personal lives could be changed by just some simple surgeries and how they can enjoy a satisfied life with their loved ones." In an interview about hair transplant he said "People usually have insecurities about procedures and they question about the safety and any harmful side effects, hair transplant is one the top cosmetic procedures which is very common these days. It is safe only if the surgeon who is performing the procedure is well trained and knows all the technicalities and complications. Those professional who have done FCPS could have no issues regarding hair transplant surgeries". Dr. Muhammad Salman Khan on many occasions described the importance of aesthetic procedures in accordance to cope with challenging society and its standards and how it can affect the mental health of a person.